If you've ever lost your keys, locked them in a car, or forgotten a safe or locker combination, you've most likely benefited from the skilled work of a professional locksmith.

Stratford's locksmith training can help teach you the detailed skills you need to perform a number of locksmith jobs. From making keys, to changing safe combinations, Stratford can help you learn how to become a locksmith and take the first step toward a new, money-making career! Stratford's comprehensive locksmith curriculum offers instruction on a number of key topics, including:
• Basic locksmithing tools
• Introduction to key cutting
• Master key systems
• Running a locksmithing business
• Basic types of locks and keys
• Electromagnetic locks
• Key duplicating machines
• Automotive lock servicing
• Alarms and system integration
• Working as a locksmith
• And more!

View the complete locksmith training course outline.

Stratford's locksmith training could lead to employment with a locksmith business, home improvement store, automotive center, security firm, or more. Enrolling in Stratford's locksmith school is an excellent choice in taking the first step in learning more about how to become a locksmith.
Unlike other locksmith courses, Stratford's locksmith training lets you study at home! All of our quality, locksmith course materials are delivered directly to your door. You study when and where it is most convenient to you! You could get your locksmith career diploma in as little as six months, or if you prefer, take up to two years to graduate. Stratford's qualified instructors are only a toll-free call away if you need assistance.

Stratford continually works to keep our tuition as low as possible and always offers the option to make low, monthly payments. Getting your locksmith career diploma is as easy as ever!

As a student in Stratford's locksmith training program, your low tuition fee covers everything you will need to successfully graduate and earn your career diploma:

• All textbooks, study guides, and learning aids for distance learning
• A full range of student services, including online exams
• A personalized career diploma upon graduation
• Unlimited access to qualified instructors by e-mail or toll-free phone
• Free shipping and handling.
Similar Courses
If you like this course, you might also be interested in: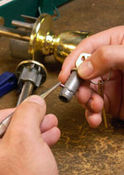 "The material was not rushed. You gave me plenty of time to complete the work without worrying about running out of time." — M.B. - Alberta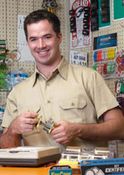 I would recommend Stratford. It's an affordable and easy way to improve yourself. — L.D. - Newfoundland