Earn your diploma in Computer Training with Stratford's guided home study course.

Enhance your skills or start toward a new moneymaking career with a Computer Training diploma from Stratford Career Institute.

Study at home in your spare time, using proven training methods perfected by Stratford, an innovative leader in home study training courses.

This is your chance to earn an attractive salary while enjoying the long-term stability that comes with vital technical skills. Stratford's Computer Training correspondence course offers comprehensive career training in all key aspects of computer operation, including:

• Understanding Computer Systems
• Hardware
• Memory
• Troubleshooting Problems
• Word Processing
• Presentations and Slide Shows
• The Internet
• Using the Windows Operating System and much more!

View the complete computer training course outline.

As a Stratford student, your low tuition fee covers everything you will need to successfully graduate from and earn your career diploma:

• All textbooks, study guides, and learning aids
• A full range of student services, including online exams
• A personalized career diploma upon graduation
• Unlimited access to qualified instructors by e-mail or toll-free phone
• Free shipping and handling

Get started today, and you can earn your diploma in as little as six months, or take up to two years if you prefer.

Similar Courses
If you like this course, you might also be interested in:
The course was very well written and easy to understand. — J.L. - Saskatchewan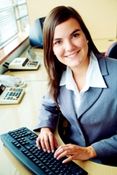 The education I received from Stratford has increased my self esteem. — P. D. - Ontario