Earn your diploma in accounting with Stratford's guided distance education accounting course.

Stratford Career Institute's distance learning accounting program can put you on the path toward a new money-making career. Our innovative accounting course allows you to train at home in your spare time, using the proven training methods perfected by Stratford Career Institute, an innovative leader in home study training courses. Here is your chance to earn an attractive salary in the fascinating and growing field of accounting.

Stratford's distance learning accounting course offers comprehensive career education in many key areas including:

• Fundamentals of Accounting • Ledgers & Journals
• The Balance Sheet • The Accounting Cycle
• Payroll & Taxes • Accounting for Corporations

View the complete accounting course outline.

Upon completion of our accounting course, you'll earn Stratford's respected accounting diploma. This diploma can be your stepping stone toward an exciting career working in:

• A major corporation
• A financial institution
• A government agency
• An accounting firm
• Your own business

As a Stratford accounting student, your low tuition fee covers everything you will need to successfully graduate and earn your career diploma:

• All textbooks, study guides, and learning aids
• A full range of student services, including online exams
• A personalized career diploma upon graduation
• Unlimited access to qualified instructors by e-mail or toll free phone
• Free shipping and handling

Enrol in Our Distance Learning Accounting Course Today!

Stratford's distance learning accounting course can help you realize your dream of becoming an accounting professional. You can earn your career diploma in accounting in as little as six months, or take up to two years, if you prefer.
Similar Courses
If you like this course, you might also be interested in: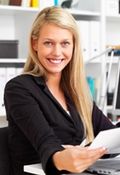 "I was very pleased with the training program. It was quite thorough and I would recommend the program to anyone interested." — A.M. - Alberta