Earn your Health Care Aide diploma with Stratford's guided home study course.

Start toward a rewarding new career as a Health Care Aide with Stratford Career Institute. Train at home in your spare time, using proven learning methods perfected by Stratford, an innovative leader in home study training courses. Here is your chance to get into a fast growing career field while enjoying interesting, meaningful work as a member of the health care team. Stratford's Health Care Aide correspondence course offers comprehensive career training in many key subjects, including:

• Medical Terminology
• Diagnostic Tests
• Infection Control
• Patient Interaction
• Basic Anatomy and Physiology
• Caring for Surgical Patients
• Pediatric Care
• Caring for Geriatric Patients
• Nutritional Support and much more...

View the complete Health Care Aide course outline.

Your Stratford Health Care Aide home study course can be a stepping-stone toward an exciting career working for a hospital, clinic, convalescent home, or nursing service.

As the population ages, there will be a growing demand for Health Care Aides. Continuing education through a home study career training course for Health Care Aides can help you become a part of it all!

As a Stratford Health Care Aide student, your low tuition fee covers everything you will need to graduate successfully from the Health Care Aide home study course and earn your career diploma:

• All textbooks, study guides, and learning aids
• A full range of student services, including online exams
• A personalized career diploma upon graduation
• Unlimited access to qualified instructors by e-mail or toll-free phone
• Free shipping and handling

Get started today, and you can earn your Health Care Aide career diploma in as little as six months, or take up to two years, if you prefer.

Similar Courses
If you like this course, you might also be interested in: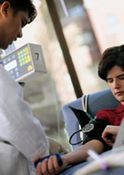 My career training with Stratford has helped me to change careers. Now I work as a trained health care aide. — M.M. - Ontario
"I like the flexibility of payments and study schedule. Information was also clear and easy to study." — C.S. - British Columbia